Eliza Ballesteros
CONTACT
via mail
or DM @eglitza
---
CURRENT EXHIBITION
Eliza Ballesteros: BUTCHER'S COIN, Westfälischer Kunstverein, Münster, 2022. Courtesy the artist. Commissioned by Westfälischer Kunstverein.
© Foto: Thorsten Arendt
Eliza Ballesteros
BUTCHER'S COIN
Solo show
curated by Angela TheisenOpening
Friday 24th June 2022
7PMExhibition
25.06. - 18.09. 2022Westfälischer Kunstverein
Rothenburg 30,
48143 MünsterOpening hours
Wednesday–Sunday
11 am–7 pmIn the summer of 2022, the Westfälischer Kunstverein will host Eliza Ballersteros's first solo show at an institution. In her stage-like installations, Ballersteros illuminates patriarchal power structures, heteronormative role models and social classifications. She focuses in particular on the domestication of animals, which she uses as a foil to question socio-cultural narratives and interpretive sovereignties. These "staged realities," as Ballesteros refers to her installations, deliberately target sensitive issues and enable viewers to experience facts from unusual perspectives in order to encourage us to reflect, think differently. Via a mode of surprising exaggeration and deformation, she casts light on received meanings inscribed into objects and places them in fresh contexts.As a result, Ballesteros dares to "look back into the future" and questions traditional social systems in the here and now. Against this backdrop, Ballersteros is currently devising a new installation, in which she will respond to a work in the Westfälischer Kunstverein's historical collection.
To receive the press release and the list of works, please contact the WKV directly.
---
UPCOMING EXHIBITION
TIPSY TINA
group show
curated by Anna HostekOpening
Wednesday 07th September 2022
7PMExhibition
08.09. - 22.10. 2022Kunsthalle Exnergasse
Währinger Straße 59
1090 Wien
Austriaw/ Aline Sofie Rainer, Miriam Desta Adefris (Music), Anthea Schranz (Music), Louis Streissler, Lea Dippold, Bartholomaeus Wächter, Ebony Tylah (Tim Hartmann & Antonia Boss), Juni-Nyusta Ruckendorfer, Rosa Rendl,
Riot Pant Project (Elena Buscaino & Mina Bonakdar), Albin Bergström, Katharina Schilling, Maša Stanic
---
RECENT EXHIBITIONS
Filmstill HAMRY (2022) by JP Langer w/ Eliza Ballesteros
NACHT IM SCHACHT
Duo show with JP Langer
Nails projectroom
Birkenstraße 61
40233 DüsseldorfExhibition
15.01. - 18.02. 2022Press Release
The artists Eliza Ballesteros and JP Langer are jointly developing an installation for the glass front of the Nails Projectroom exhibition space, each juxtaposing sculptural objects and the silent movie HAMRY (2022) by JP Langer. Thematically, the works relate to underground and open-pit mining from the two artists' respective regions of departure, the Erzgebirge and the Ruhrpott.
The installation will extend over the spacious display window, which will be clay-lined from inside, leaving out the shape of a mineshaft.
Both artistic positions meet in a process of collaboration in this duo show and develop the image in the form of an installation together in an interdisciplinary approach.
An edition will be published to accompany the exhibition.Text by Jana Dormann with installation views on KUBA PARIS
supported by Kunst- und Kulturstiftung Stadtsparkasse Düsseldorf
Filmstill HAMRY (2022) by JP Langer w/ Eliza Ballesteros
NACHT IM SCHACHT
Der Titel NACHT IM SCHACHT ist Verdopplung durch Aufteilen: er doppelte die Nacht indem diese einerseits als natürliche oder empirische Nacht und andererseits als diejenige Nacht zu verstehen ist, die im Schacht, also unter Tage passiert. Wo sich also mittels Schacht von Empirischem abgegrenzt wird, gibt es Eigengesetzlichkeit. Es entsteht eine andere Nacht, die so gewissermaßen eine zweite Natur begründet. Wird diese zweite Natur in den Kontext der Kunst gesetzt, der seinerseits Eigensinn behauptet, kann zum Beispiel die Möglichkeit entstehen, das Gewöhnliche als Gewohntes hervortreten zu lassen. Dabei sind weder die Natur, noch das in die Natur Gesetzte, noch die Kunst tatsächlich metaphysisches Außen. Sie sind vielmehr als verschiedenartige Räume einer Welt zusammengeschlossen. In JP Langers und Eliza Ballesteros NACHT IM SCHACHT werden diese Drei gespiegelt oder referiert, es gibt dort die Welt noch einmal.Noch vor dem Betreten der Installation, in der Betrachtung von außen, wird durch eine erste Arbeit, SCHACHTMUND (2022), der vordere Raum des Nails künstlich als Raum demarkiert. Die halbkreisförmige Lehmschicht auf der Glasscheibe fungiert als eine zusätzliche Begrenzung, die sich via poverer und teils schon mürbe gewordener Materialität selbst in Frage stellt. Gegen das transparente Fenster aber verdichtet sich der Schachtmund zugleich, rahmt oder beschwellt letztlich sein Dahinter. Emphatisch ist der Schacht durch eine weitere, durch und durch solide anmutende, dick aufgetragene Lehmschicht im Fenster des hinteren Raumes abgeschlossen. Die in der Sphäre des Allgemeinen eh schon fabrizierte Schacht-Nacht wird also noch einmal künstlerisch reproduziert.
Noch im Blick von außen fallen dabei vier verschiedene Positionen in das Bild: die zwei Schwester-Arbeiten BASHFUL (2021) zentral im Vordergrund und links im Hintergrund DOC (2021), die auf dem Boden aufgestellte Videoarbeit HAMRY (2022), Ballesteros Werksserie MINER'S APRON [Arschleder] an den drei Wänden des Raumes gehangen und aufgestellt sowie FRENCH FROG (2022), an der Decke des Raumes. Die Positionen lassen sich in ihrer Beziehung zueinander als Reflektion einer intra- und inter-hierarchisierten Form von Arbeit, als Anspielung auf gewöhnlich festgeschriebene Produktionsverhältnisse einordnen. So hofiert Ballesteros Werksserie über ihre Positionierung an der Schachtwand die Arbeiten JP Langers gewissermaßen. Knechtisch and die Ränder gedrängt, protagonieren die Arschleder, die eigentlich selbst servil, im unteren Blickfeld gesetzten Arbeiten HAMRY, BASHFUL und DOC. Irgendwie widersinnig entsteht im Unterbau der Arbeiten eine hierarchische Ordnung, die sich an der vierten Position FRENCH FROG (2022), jedoch sofort wieder bricht. Die in der Horizontale zentral positionierte Arbeit, eine entzündete Grubenlampe, scheint buchstäblich als ein dem Raum  übergeordnetes auf. Über sein Abarbeiten an der Decke des Raumes als dem dort entstehenden Ruß, scheitert FRENCH FROGs behauptete Autorität letztlich aber ebenso an seiner institutionellen, empirischen Begrenzung. Ausgehend von ihrem jeweiligen Unterworfen-Sein reproduzieren BASHFUL und DOC ein ähnliches Untereinander. Sie versuchen Verhältnisse unselbstständiger Selbstständigkeit zu etablieren: etwa ist von den zwei sternförmigen Objekten nur eines beleuchtet, sodass von der hinteren, beleuchteten Position aus betrachtet, sich die Vordere bloß parasitär darstellt. Seinerseits kann der unselbstständige Stern durch seine Setzung am Anfang des Schachtmundes, also durch seine Nähe zum Tageslicht, aber genauso selbständig auftreten. Im  Übergang von Nacht und Tag scheitern letztlich beide und müssen abwechselnd mal die souveräne, mal die unterworfene Position einnehmen. Im Rahmen der Installation, als Nachahmung der Nachahmung, können BASHFUL und DOC die Momente ihrer Subexistenz zugleich aber kokettieren. In ihrer Nähe zum Herrnhuter Stern wird durch die ironische Andeutung auf das hyper-kanonische objet trouvé die autarke Eigengesetzlichkeit der künstlichen Sphäre wieder präsent.
Die Ernsthaftigkeit der Verhältnisse verliert sich. Ballesteros MINER'S APRON [Arschleder] setzen die Unterbrechung einer rein auf den Gehalt bezogenen, einer moralisch normativen Rezeptionsweise formalistisch fort. Die verwischten, unsauber angelegten Ornament-Zeichnungen auf den Arschledern, bilden mittels doppelter Verdinglichung ein (produktions-)  ästhetisches, transgressives Moment aus: so entzieht sich der Rückgriff auf das dekorative, als Kitsch überkommene Ornament in seinem Verhältnis zum Gebrauchsgegenstand sowohl der Idee reiner Konzept-, als auch rein post-konzeptueller Kunst. Als  ästhetisiertes Ding oder als Bewegung zwischen bloßer Gegenständlichkeit und sinnlicher Erscheinung bleiben die Werke als Werke transparent – referieren also referenziell auf die Verhältnisse der Montanindustrie. Als ein die gesamte Installation verdoppelndes, zwischen Zeit- und Raumkunst stehendes Element schlüsselt die theatral gesetzte Videoarbeit HAMRY die Bewegung zwischen Welt und artifizieller Gegenwelt letztlich vollkommen auf. Der Film zeichnet, ausgehend von seinem ruralen, industriellen Setting, Entwicklungstendenzen hin zu post-industriellen Formen der Arbeit, zu Digitalisierung und performativer Arbeit als virtuose Selbstinszenierung nach. Mit den Letzteren rücken allgemein schöpferische Potenziale zweckmäßig in das Zentrum wirtschaftlicher Produktion und lösen materielle Bedingungen gewissermaßen aus dieser aus. Gegen diese Folie aber, durch das in den Hintergrund treten geographischer Gegebenheiten im zweckmäßigen Bezug auf Produktionsverhältnisse, re-etabliert sich der ästhetische Blick auf das Land: als Landschaft tritt Natur hier naturschön auf, die erste Natur wird über die zweite Natur wieder auf die der Kunst geöffnet. Dabei mal der performativen Inszenierung der Protagonistinnen als Kulisse dienend, mal sublim auftretend, gehen die Protagonistinnen immer wieder in der Landschaft und ruralen Szenerie unter. Das Wechselspiel wirkt dabei so regelmäßig, dass die ästhetische Domestizierung der Umwelt trotz allem maximal momentan auffällt. Der Eindruck purer Konvention überwiegt. Auch insgesamt ist HAMRY auf Banalität hin angelegt und spielt dabei mit gescheiterten Motiven der Weltflucht, einer Unmöglichkeit der Flucht ins Private. Die Übersättigung des Artifiziellen in allen Lebensbereichen der diese Banalität geschuldet ist, spiegelt sich überdies in den Titeln der Arbeiten JP Langers.  Übernommen aus der Disney Schneewittchen-Version, ist hier auch die absolute Trivialität des Massenkulturellen in die Sphäre der Kunst eingelassen und setzt so an die Stelle einer Überhöhung das Herkömmliche. Alles eskapistische Potenzial, alle Nostalgie für den Austritt in das Fiktionale, das hervorgebrachte make-believe wird als nur noch gewöhnlich, als zur Gewohnheit verkommene, mit der Sphäre der Arbeit auch in der Sphäre der Kunst Nivelliertes herausgestellt. Wie in der Nacht selbst, im Dunklen, scheint sich alles - Natur, Arbeit und Kunst - eintönig überlagert zu haben. Erst durch die künstliche Begrenzungen im falschen Schacht aber sind alle Drei als irgendwo gleiche, als ein gleicher Usus anschaulich geworden.Text von Jana Dormann
---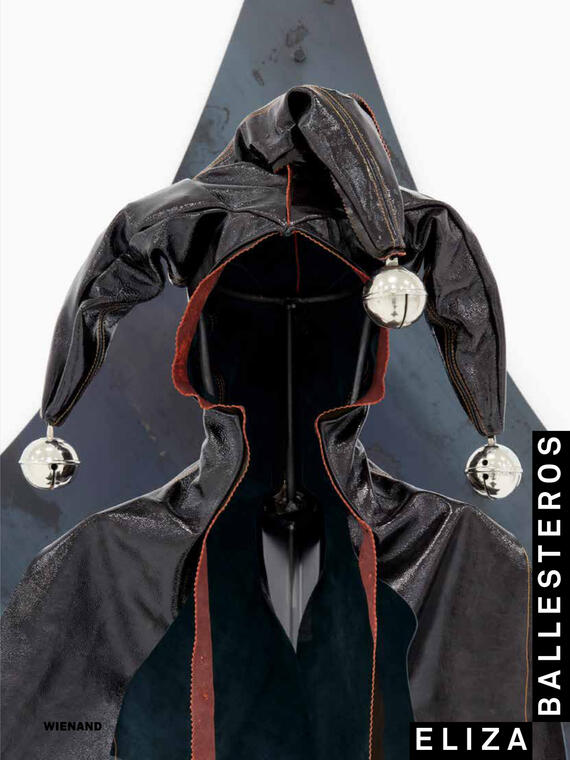 Eliza Ballesteros
Monograph
editied by Luisa Rittershauspublished by
WIENAND Verlag Cologne
catalogue
96 pages
c-printed
28,0 cm x 22,0 cm
Hardcover
german / englishISBN 978-3-86832-650-5Essay written by Luisa Rittershaus
Layout design by Michael Gaisbrief PDF preview of the book:
https://www.wienand-verlag.de/out/media/Ballesteros.pdfclick to order online via the WIENAND online shop and read the press release (german via Monopol Magazin).
Made possible with funds from Stiftung Kunst und Kultur e. V. Bonn and NEUSTART KULTUR
---
Vordemberge-Gildewart Grant 2021
shortlisted
curated by Gertrud Peters and Assistant Curator Nantje WilkeKIT Kunst im Tunnel
Mannesmannufer 1b
40213 DüsseldorfExhibition
26.11.2021–13.02.2022w/ Paul Czerlitzki, Nicholas Grafia & Mikołaj Sobczak, Frieder Haller, Alesha Klein, Björn Knapp, Harkeerat Mangat, Mira Mann,
Donja Nasseri, Murat Önen, Linda Skellington and Ji Hyung Song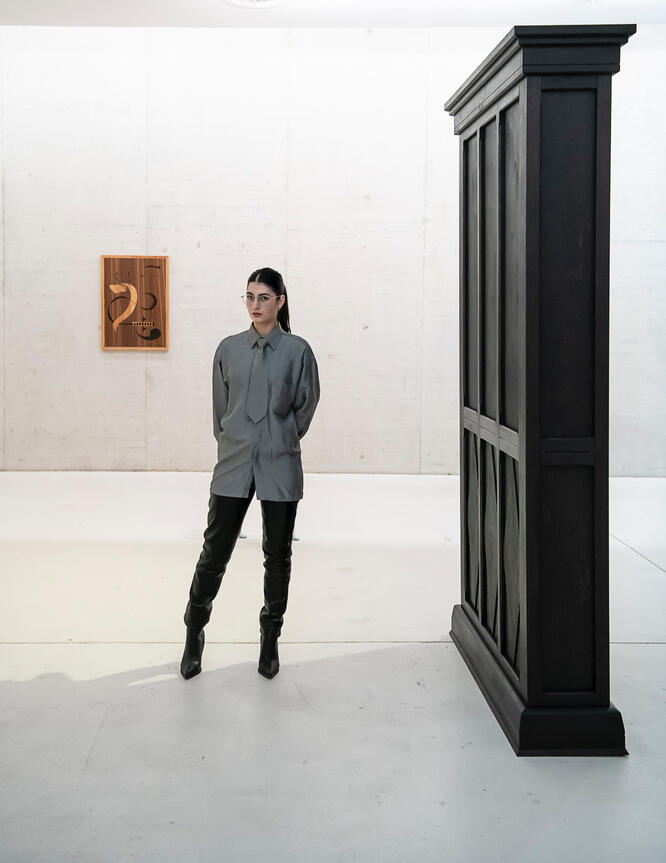 Portrait at KIT by Katja Illner, courtesy of Eliza Ballesteros and Katja Illner 2021
---
SELECTED WORKS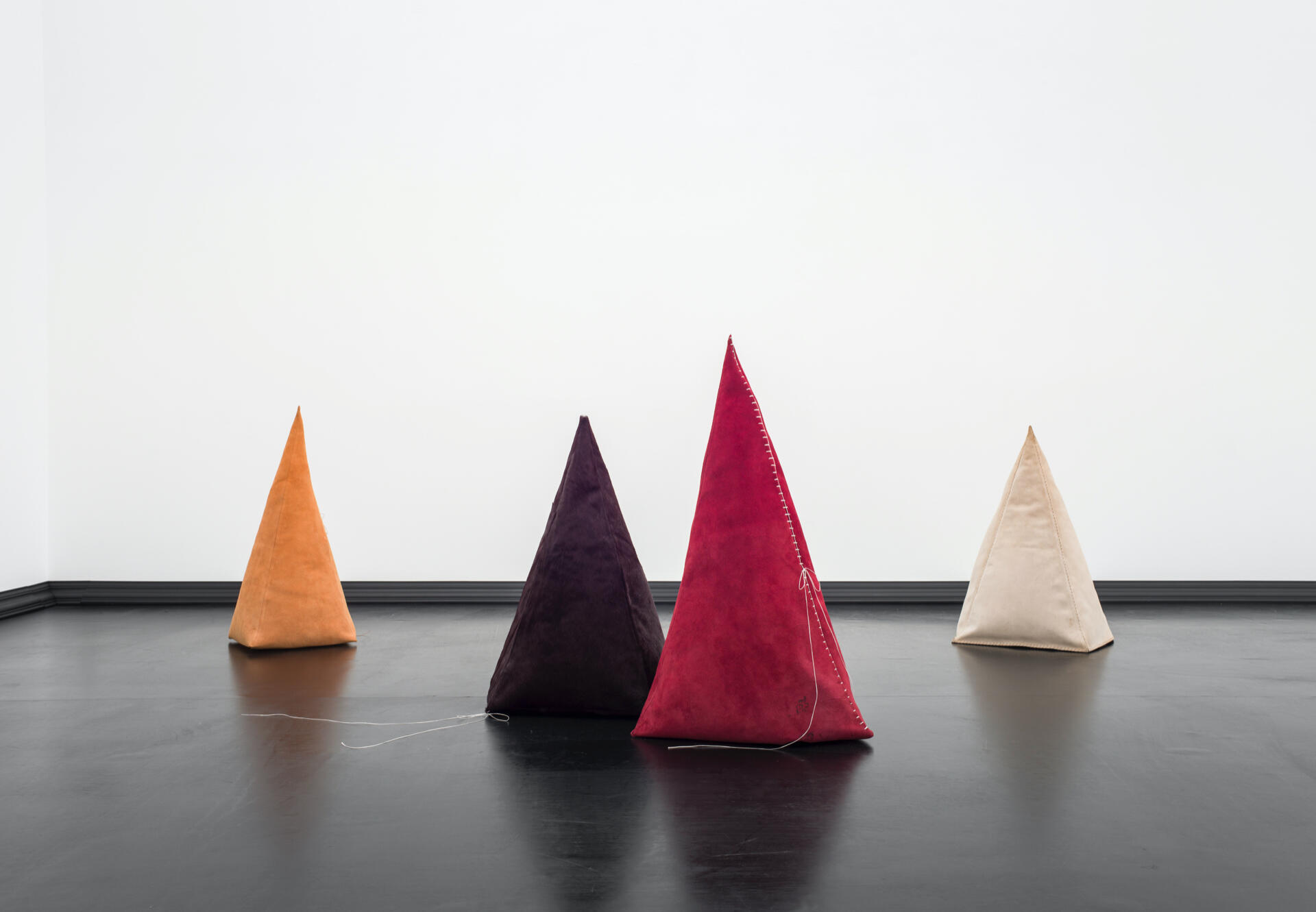 Installation shot of SHABRACK, 2021 Courtesy fiebach, minninger, Eliza Ballesteros | Photo: Martin PlüddemannCONES (FOR MICHAËL), 2021
leather, fur, upholstery, wax threat, vinyl, skirting board
dimension variable
Eliza Ballesteros
SHABRACK
solo show
curated by Luisa Schlotterbeckgalerie fiebach, minninger
venloer str. 26
50672 cologne24th June - 28th August 2021
see installation shots by Martin Plüddemann on KUBAPARIS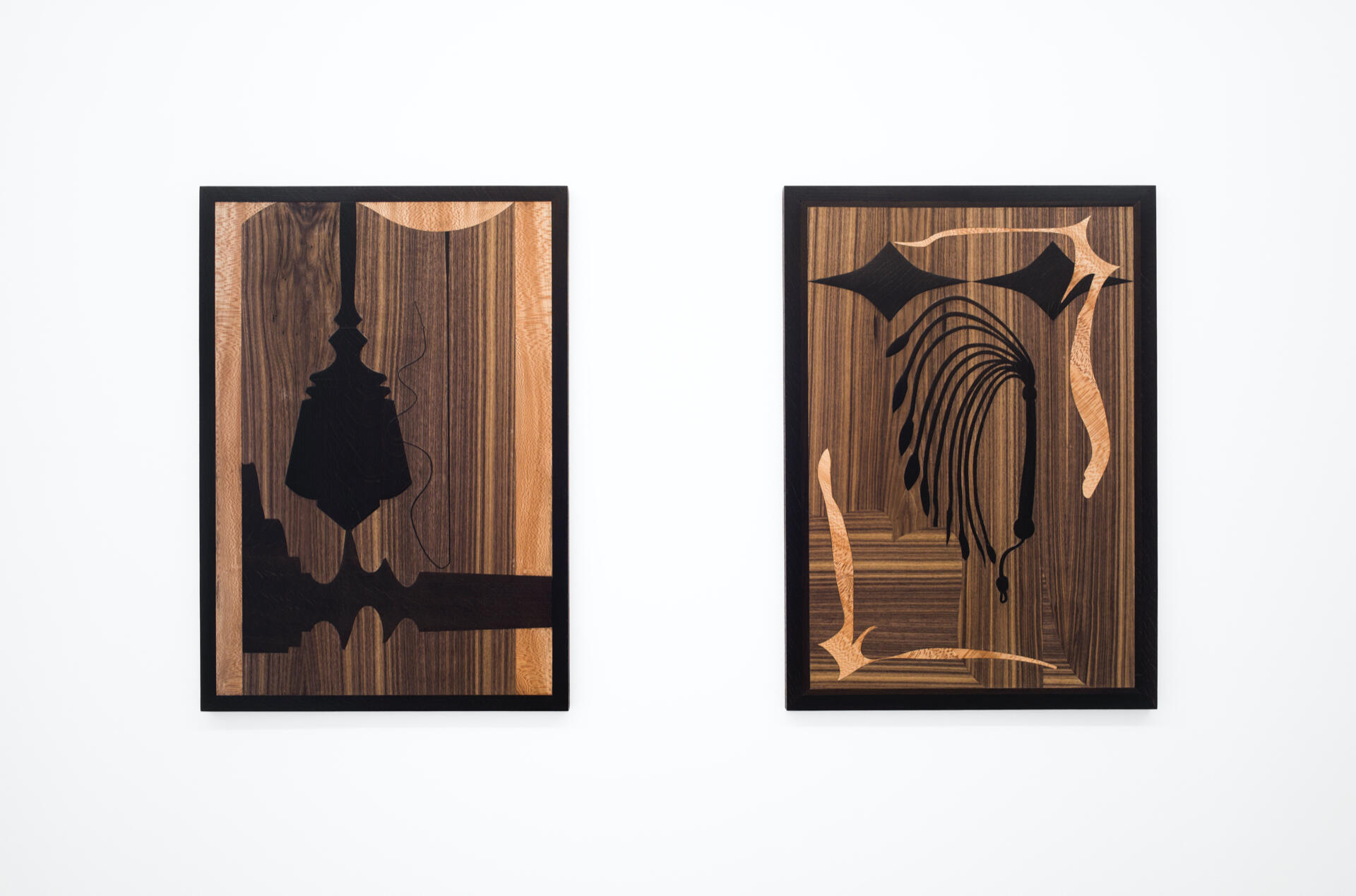 Courtesy fiebach, minninger, Eliza Ballesteros  | Photo: Martin PlüddemannWHIP I (DILDOP), 2021
smoked oak, walnut, platane, wax finish
59 x 84 x 3 cmWHIP II (9+1 CAT), 2021
smoked oak, walnut, platane, wax finish
59 x 84 x 3 cm
---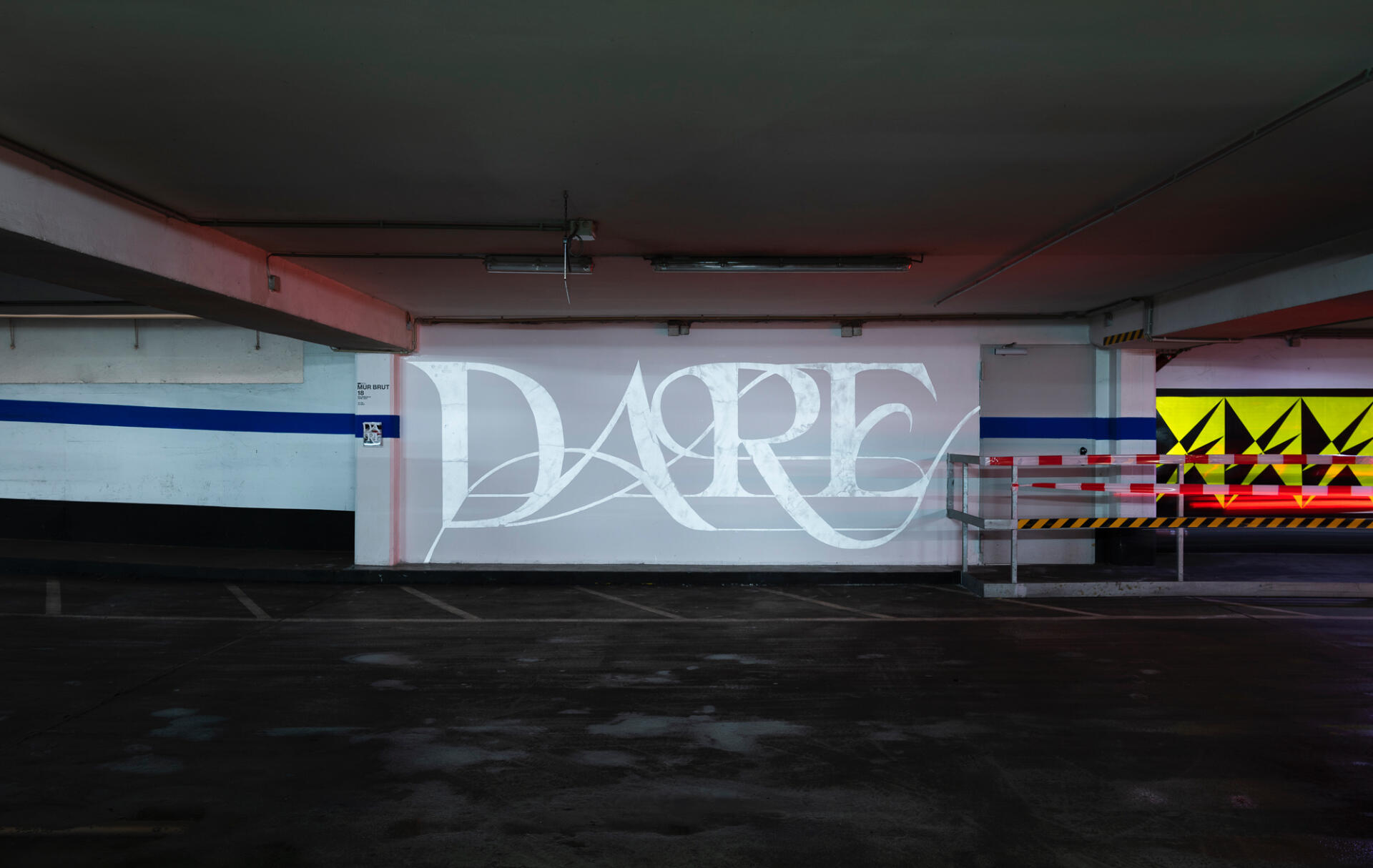 Courtesy Kunsthalle Düsseldorf, Eliza Ballesteros | Photo: Katja IllnerDARE, 2021Installation in public space
driveway marking paint, glass beads
530 x 230 cm
Eliza Ballesteros
DARE, 2021
solo show
in collaboration with Teresa Schönherr
curated by Katharina BrunsMUR BRUT #18
at
Kunsthalle Düsseldorf Tiefgarage
Grabbeplatz 4, 40213 Düsseldorf04th February - 25th April 2021
Review by Julia Meyer-Brehm at Monopol Magazin Online (german)
---
Installation view All Corners Made To Be Leaned groupshow, Attic Bayenwerft Rhenania Cologne, 2021 | Photos: Philipp Naujoks
ALL CORNERS MADE TO BE LEANED
Invited by Eliza Ballesteros
Text by Jana DormannAttic Bayenwerft
Kunsthaus Rhenania
Bayenstr. 28,
50678 CologneExhebition
12.03 - 18.04.2021group show w/
Anna Budniewski & Michael Dikta , Sarah Doolan, Till Gerhard Hausotte, Anna Hostek, HULFE, Leander Kreißl, knuddi2000,
Arthur Löwen, Katerina Matsagkos, Philipp Naujoks, Phung Tien Phan, Sara Rossi, Anna Reutinger, Katharina Schilling,
Georg Thanner, Lissy Willberg
see the full documentation on
OFLUXO and Journal.fyi
TAUSEND JAHRE SCHEISSE (Jesters End), 2021 | Photos: Philipp Naujoks, courtesy Eliza Ballesteros
vinyl, latex, wax cord, chrome bells
70 x 50 x 30 cm
---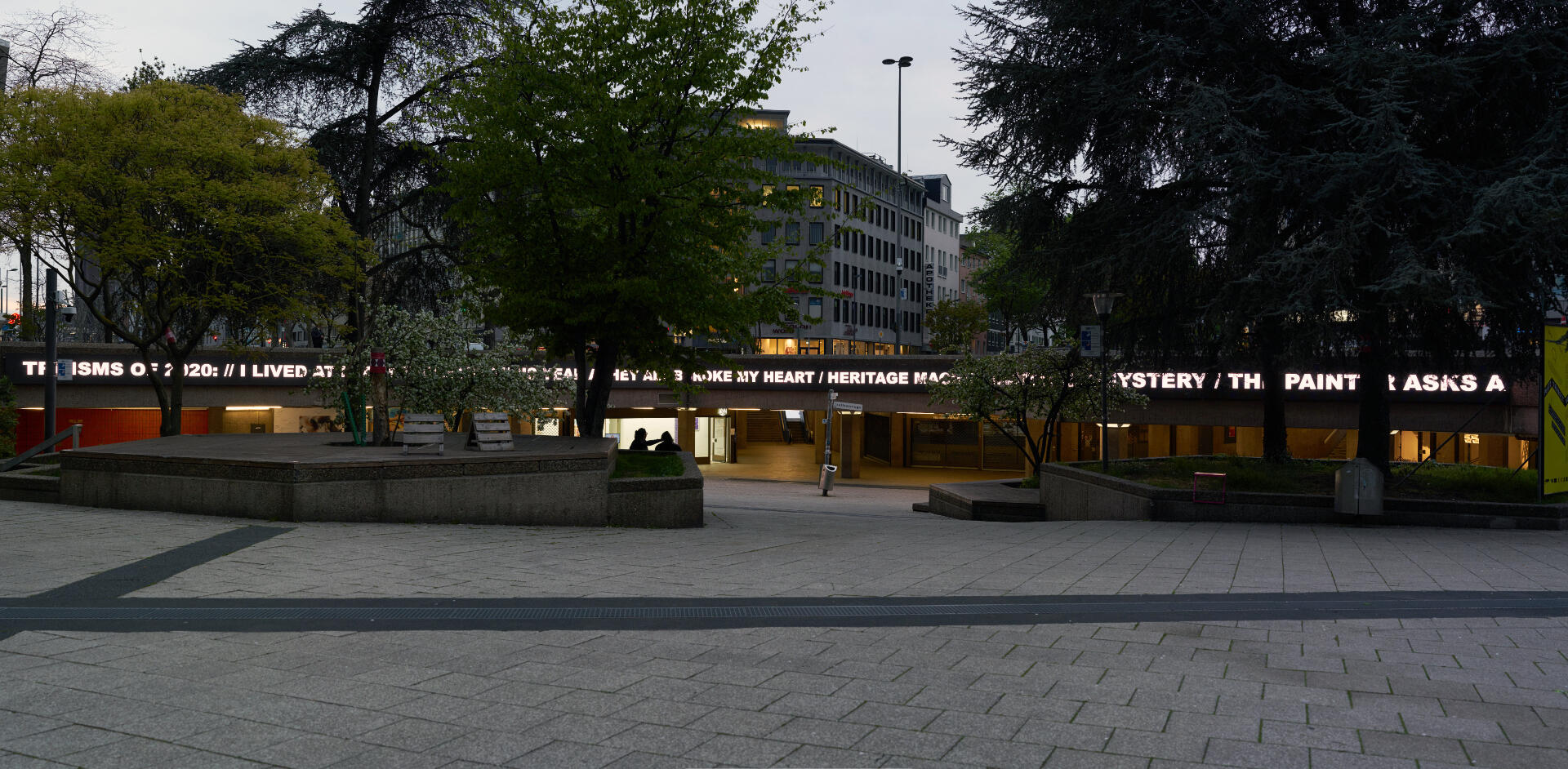 Photo: Ludwig Kuffer 2021TRUISMS OF 2020 - a homage
50 m LED Panel
moving text
TRANSIT – vorübergehende Literatur am Ebertplatz
TRUISMS OF 2020 - a homagepreviously unpublished text material installed in public space
at Ebertplatz, Cologne
9th April - 14th May 2021more information and the list of participants:
TRANSIT Ebertplatz Köln (in german)
---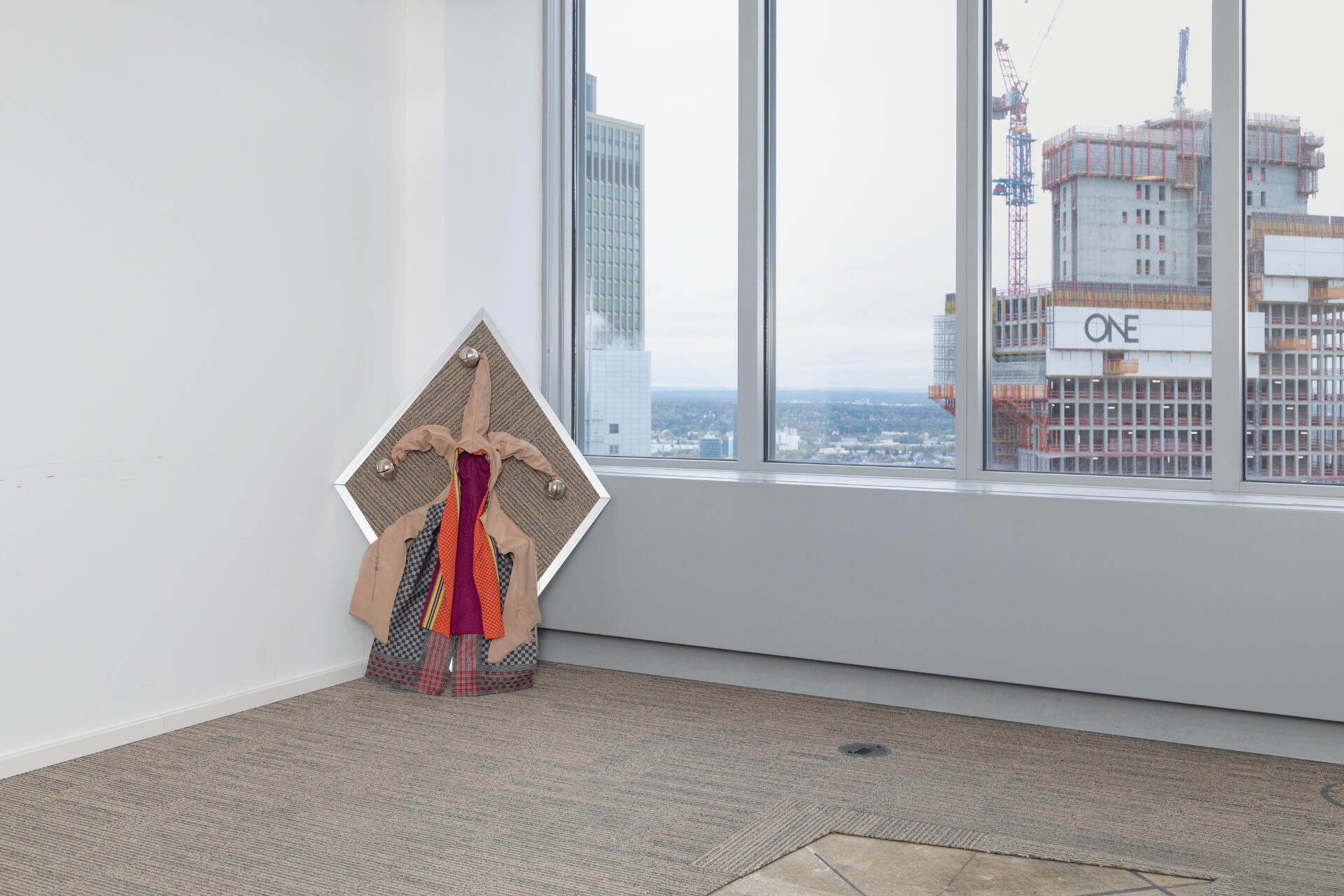 THE TRICKSTER, 2020
goat leather, antique brass bells, linen cloth, wood display upholstered with office carpet, artist made aluminium frame, carpet cut
130 x 95 cmPhoto courtesy of ORBIT
ORBIT
Invited by
Arthur Löwen & Béla FeldbergMesseturm, 36th floor
Frankfurt am Main
16.10. - 29.11.2020groupshow with:
Aline Bouvy, Leon Eisermann, Neven Allgeier, Inga Danysz, Martin Kozlowski, Yana Tsegay, Deniz Cemil, Jiwon Lee, Immanuel Birkert, Sami Schlichting, Martin Wenzel, Stefan Müller, Koen Delaere, Laura Schawelka, Felix Kultau, Dan Kwon, Rudi Ninov, Sichtbeton (Martin Kähler/Max Huckle), Miriam Schmitz
Read the story behind the show and see some installation shots at
SCHIRNMAG (german)
and the full documentation at
DAILY LAZY, KUBAPARIS and HUGO ZORN 💖
Review by Naomi Rado at PASSE-AVANT (german)
---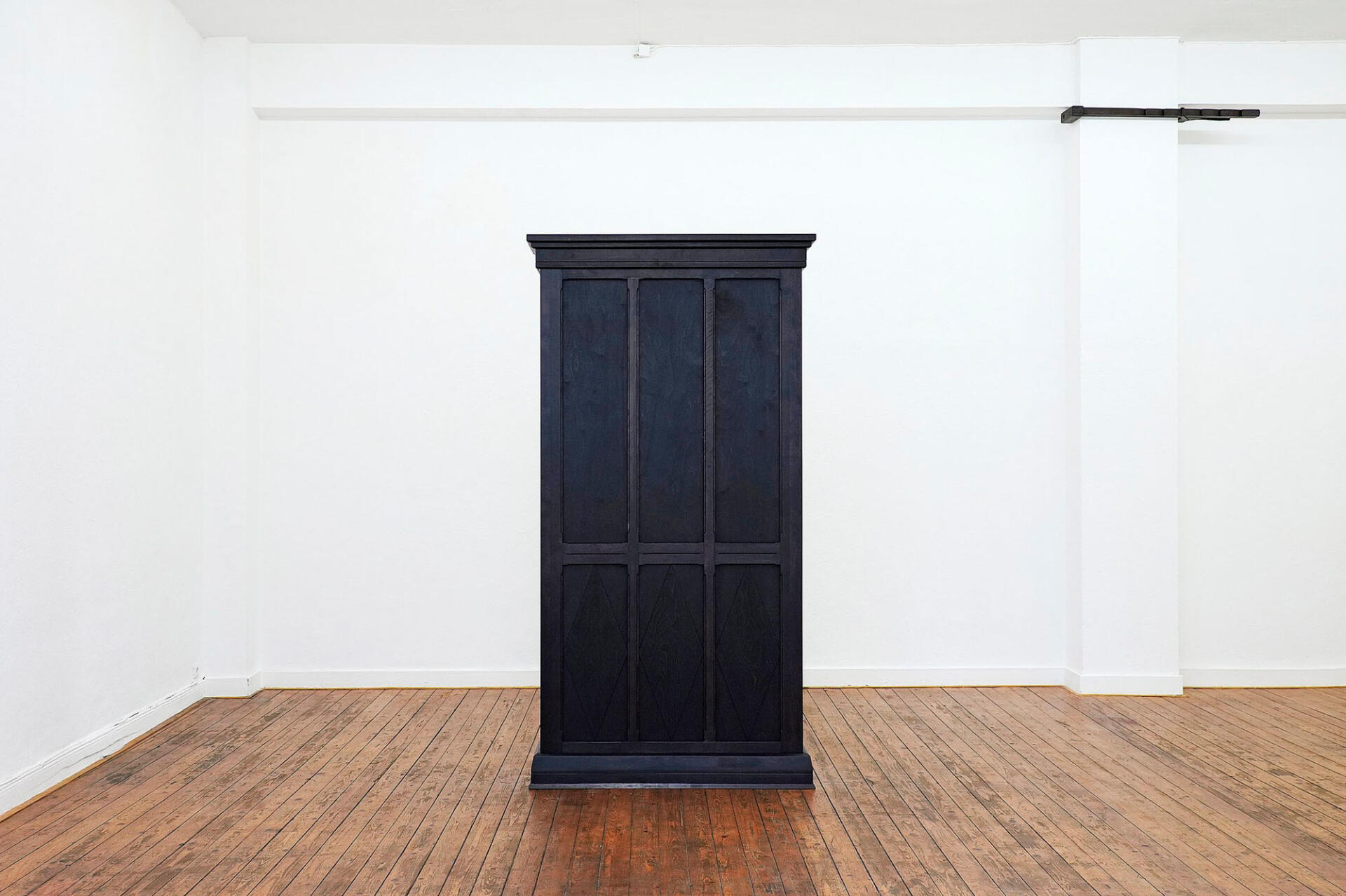 PARANOIA [Der Schrank], 2020
birch wood, pigment, oil
250 x 130 x 40 cmAs part of the solo show DOMESTIC HECK, installation view at Offspace Moltkereiwerkstatt Cologne, 2020Photo by Hans Diernberger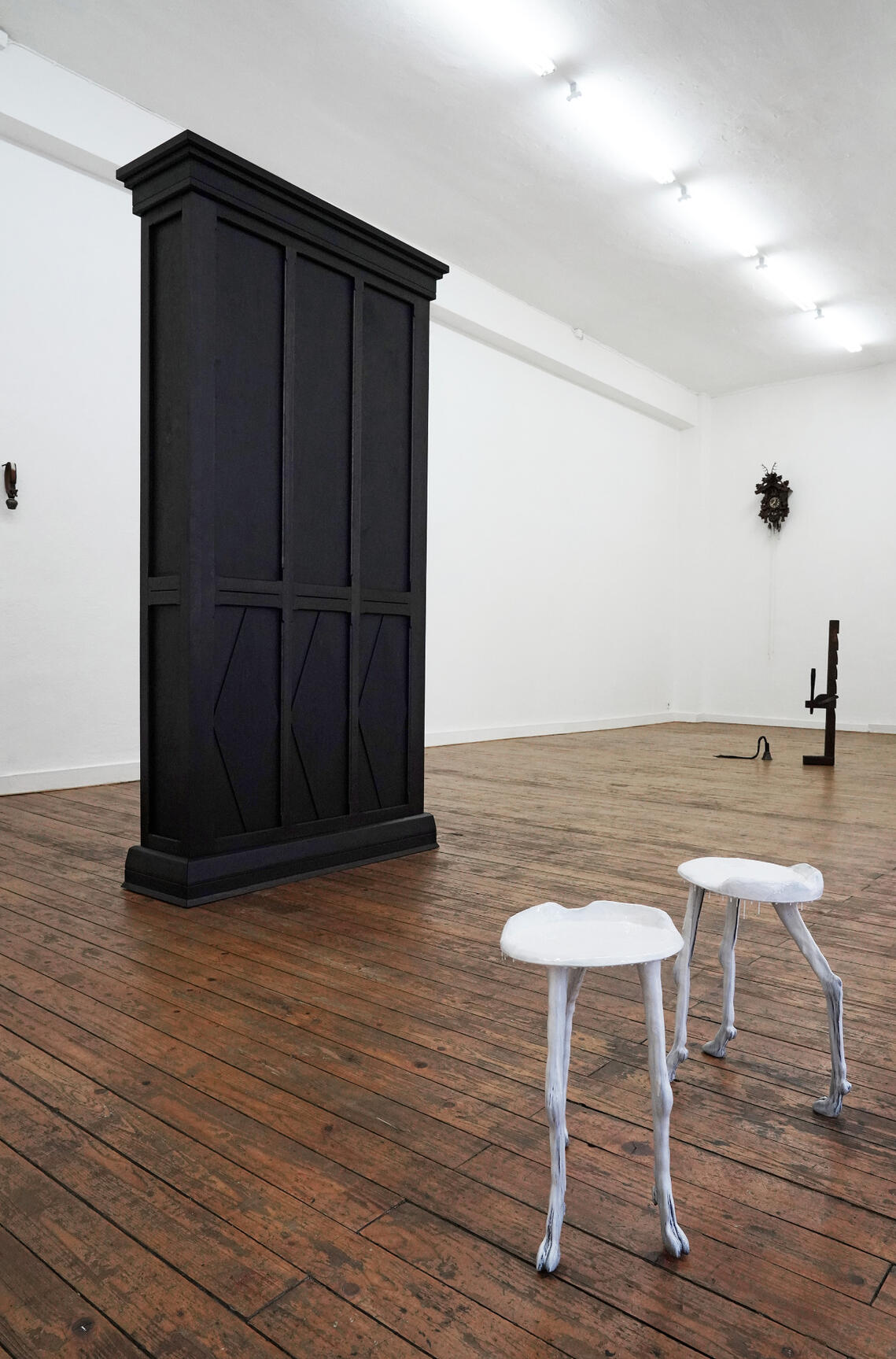 Installation View DOMESTIC HECK, 2020Photo by Hans Diernberger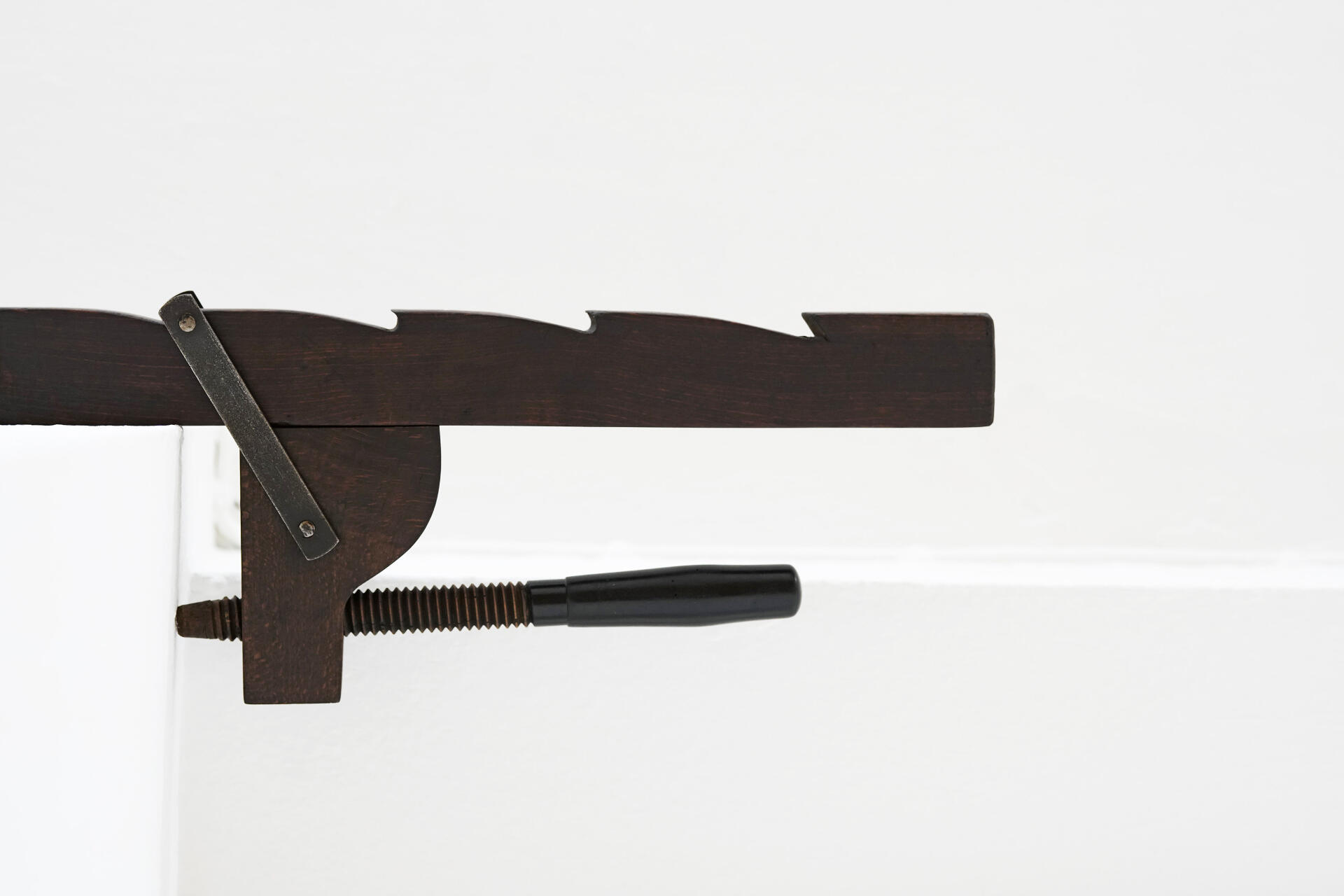 Detail CLAMPS, 2020
wood, oak stain, oil, iron, shellac
116 x 23 x 7 cmPhoto by Hans Diernberger
Eliza Ballesteros
DOMESTIC HECK
Offspace Moltkerei Werkstatt Colognecurated by Alexander Pütz
see the full documentation and text featured on
O FLUXO
and
Daily Lazy
---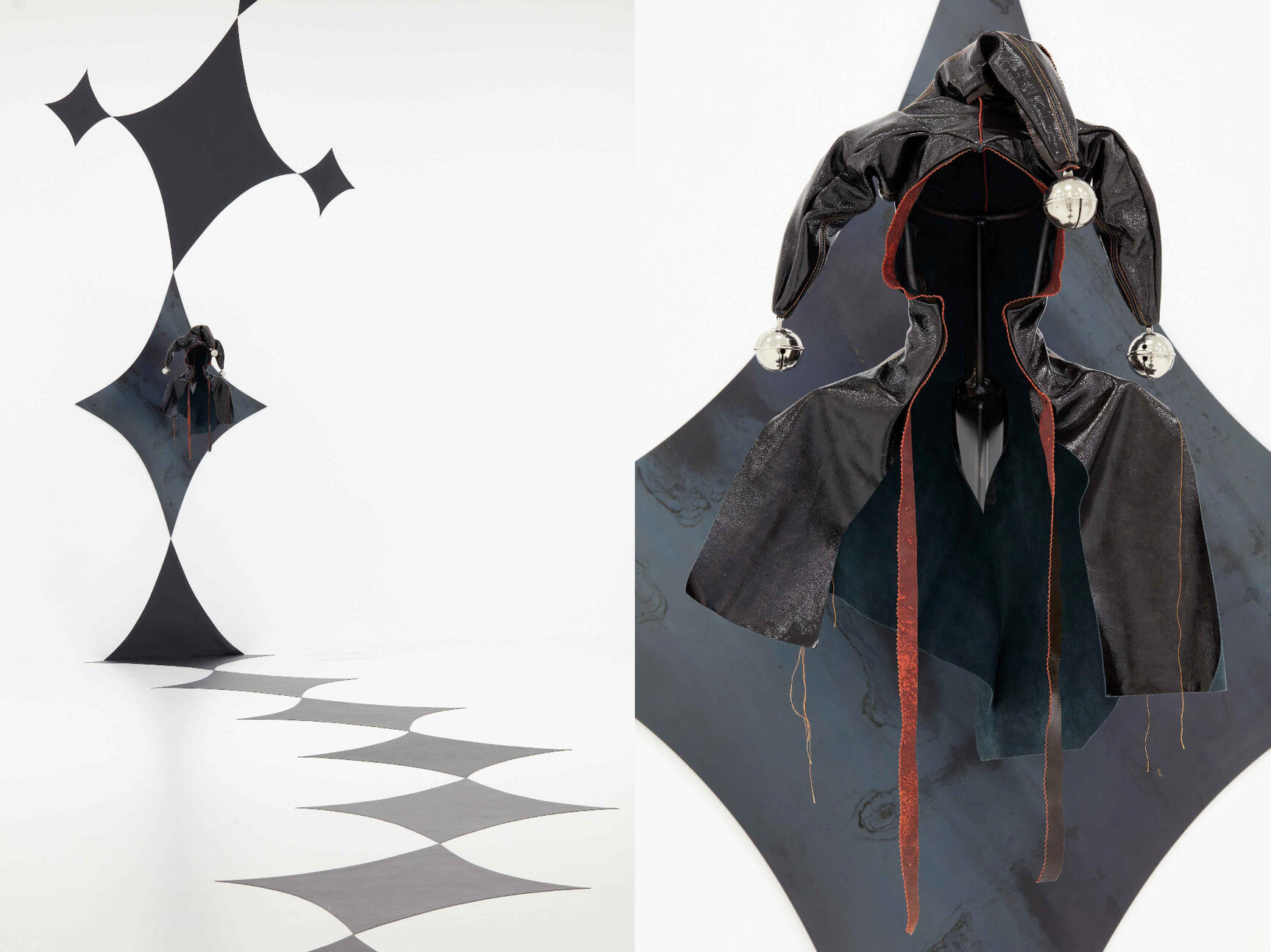 THE JESTER X (2020) Installation view and Detail, Kunstsammlung NRW K21
Photo: Copyright Eliza Ballesteros and AR
IN ORDER OF APPEARANCE
Absolvent_innen der Kunstakademie Düsseldorf 2019
07. 02. - 08.03. 2020
Kunstsammlung NRW K21
---
THE JESTER X, 2019
Graduation Show
Kunstakademie Düsseldorf
In a scattered truth,
in a blinding blur,
the inversion happened.
Something silent that has been heralded;
Who has become the 𝘱𝘰𝘵𝘦𝘯𝘵𝘢𝘵𝘦 ?
THE JESTER X (2019) is a floor installation of 21 diamond shaped vinyl cuts, that form a black harlequin pattern coming out of the studio space spreading into the hallway of the building. There are three baby blue bells, ridiculously upscaled, sitting on three diamond shaped dollies, which corners are protected by a aluminium laser cut cowboy ornament. The bells have semi -glossy orange glazing that slimes down on them. Normally heralding something that will arrive, they remain silent announcing the inversion of the Jester; who became the superior in the post-factic age. They function like a rumor in the corridor, referring to the echo that buzzes in the most public space of the building: the long hallway and its endless symmetric architecture.
Floor installation of 21 diamond shaped vinyl cuts, semi- glazed ceramic bells, dollies with laser cut aluminium corner fittings, dimension variable
please click on the pictures below
---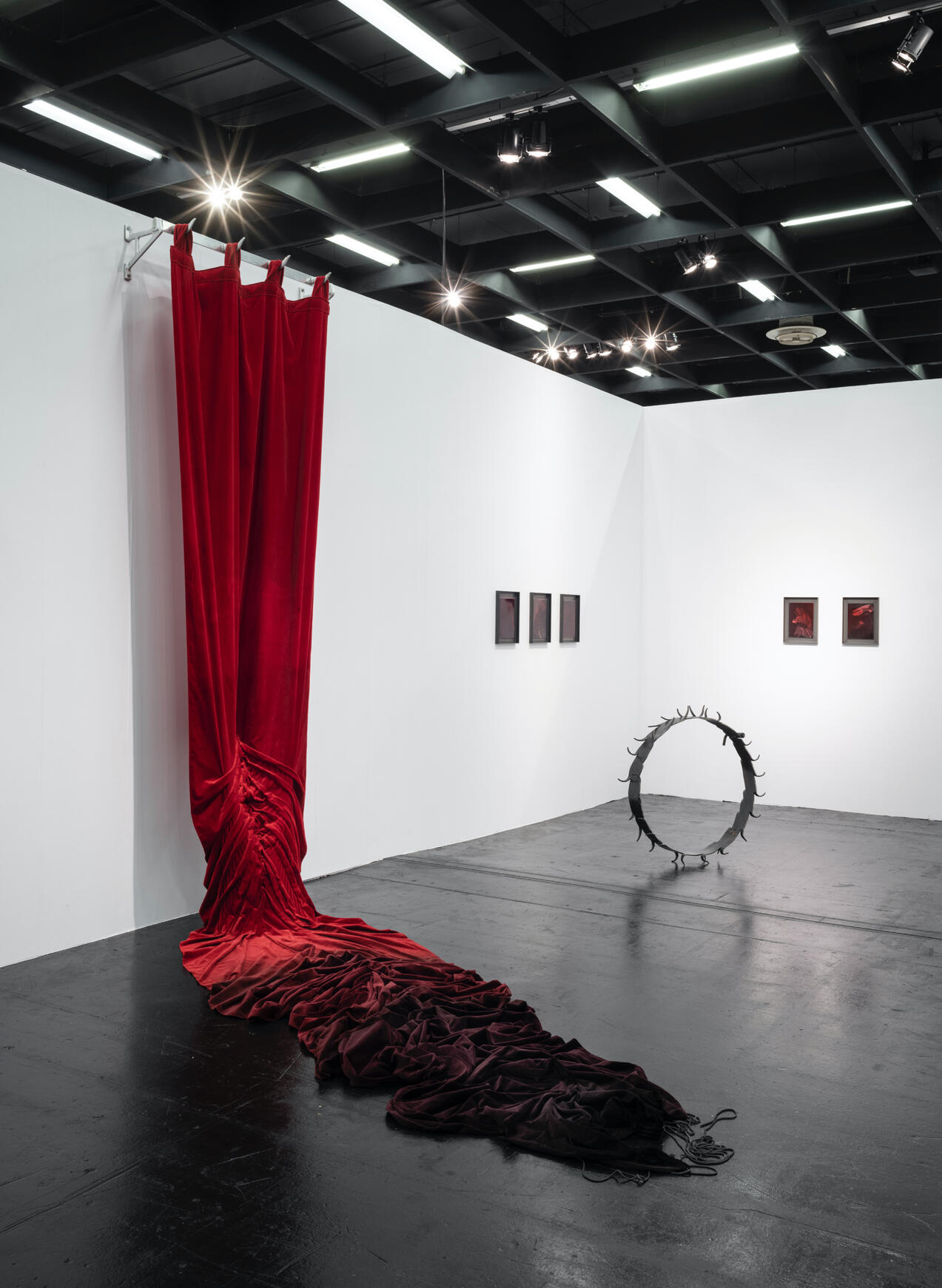 YOUNG AND RAGING, 2019
permanent installation at the campus area of
Heinrich-Heine Universität, Düsseldorf
as part of the CAMPUS BEAUTIFUL Project 25.04.2019 – 23.05.2019 accompanied by a publication
Young fortune of angerFreedom is the key concept and the necessary condition for criticism and new ideas. Only those who can move independently - whether real or mental - have the ability to set creative process in motion. Thus, one can freely, in space and time, still fill emptiness with content and not think like others but give expression to one's own. A campus - like a utopia - can in this way be a protected space, free from external, work-determining structures. Students are offered a space in which they can learn, communicate, develop ideas and emancipate themselves. But what happens when this free space becomes smaller and smaller? Then one should be outraged!Eliza Ballestero's inscription young and raging covers the brick wall of the Georg Penker area at Heinrich Heine University. Using a high-pressure cleaner, the artist uses the cleaning process to engrave the weather-darkened outdoor area by revealing its original colours once more. Formally – in the sense of simple, handwritten graffiti such as ''sous le pavés, la plage" of the Situationist International – and content wise – as a call to break out of everyday structures – the exhibition brings back the memory of student revolts and updates current political commitment. On the one hand, through the artistic process of purification, which removes the grass which has grown there over time, symbolically bringing back the political awakening of the late 1960s in Europe into context. On the other hand, the use of simple, quickly hand-written lettering is to be understood as an awakening statement of protest and anger. For some time, until the weather and the environment have regained control of the wall, the lettering can be read. Afterwards someone else will have to speak up again.Reemergence and disappearance, a cycle that reminds society of the need to renew and update ideas: Time, as an essential part of Eliza Ballesteros's slowly fading work reminds us not to devote ourselves passively to the spectacle but to break out of it actively and critically and to not take constructs of society for granted: "The thought of eternity is the coarsest thing a human being can make of his actions. [...] The situationist challenge to the passing of emotions and time would be the wager to win again and again with change [...]. Young and ragin is likewise as temporary, a reference to how little one can rely on the revolution of those who came before us. More so, it is about utilising the moment of youth and its rage in order to rethink the given anew.Text by Hannah Rhein
Translation by Simon Pinney
1 Vgl. Biene Baumeister, Zwi Negator: Situationistsiche Revolutionstheorie. Eine Aneignung Stuttgart 2007
2 Vgl. Guy Debord: Die Gesellschaft des Spektakels, Berlin 1996 [La Société du Spectacle, 1967].
3 Guy Debord: Rapport zur Konstruktion von Situationen, Edition Nautilus Flugschrift No. 23, Hamburg, 1980
please click on the pictures below
Photos by Ludwig Kuffer
---
D I S C L A I M E RLegal AdviceCopyright
The contents and works created by the site operators on these page are subject to German copyright law and need to be licenced by the legal representative VG Bild-Kunst, Bonn. Duplication, processing, distribution, or any form of commercialization of such material beyond the scope of the copyright law shall require the prior written consent of its respective author or creator and need to be licenced by the legal representative VG Bild-Kunst, Bonn.
Third-party copyrights are respected insofar as the content on this site was not created by the operator. In particular, third-party content is identified as such. Should you nevertheless become aware of a copyright infringement, please inform me accordingly. If I become aware of any infringements, I will remove such content immediately.Links to other websites
The site contains links to external third party websites whose contents I cannot control. Therefore, I cannot assume any liability for this external content. The respective provider or operator of the site is always responsible for the contents of the link. The links were checked for possible legal violations at the time the link was added and no illegal content was identified at this time. However, it is not reasonable to have permanent content control of links without concrete evidence of a legal violation. I will remove such links immediately upon notification of any infringement.
© Eliza Ballesteros 2022 All Rights Reserved by VG Bild-Kunst, Bonn 2022